Do you know you can get all the knowledge you need for growing delicious and healthy vegetables easy, all in one place? The pocket digital gardening assistant Tomappo, including the mobile app and the web portal, takes you throughout the gardening season easily and concisely. The app was created by a team of young Slovenian professionals from different areas who know how discouraging searching for information in overloaded gardening forums and thick manuals can be for gardeners. Tomappo plans your gardening chores to let you enjoy more time among your veggies in the fresh air. The app is now available in English as well, on Google Play and Apple Store.
Pocket weather forecast and sowing calendar
To avoid paying too much for dwindled and rotten produce that traveled thousands of miles to get to the stores, more and more people are deciding to start their own garden. Having fresh veggies and herbs always available is nice, but gardening beginnings might not be that easy. You plant some peppers in a pot and cultivate them, but when you transplant the seedlings, they don't want to grow anymore. A good reason to give up? Absolutely not. Tomappo helps beginners and experienced gardeners through the gardening season, step by step, all from garden plan to storage and use of produce. The creative manager of the project, Bojan Blazica, PhD in information and communication sciences, got an inspiration for the app with his dad, an enthusiastic gardener. "I realized that my father's extensive notes on growing vegetables could be presented more clearly in a mobile app. In the garden, gardening advice are easier available on a mobile phone than in a ton of printed manuals."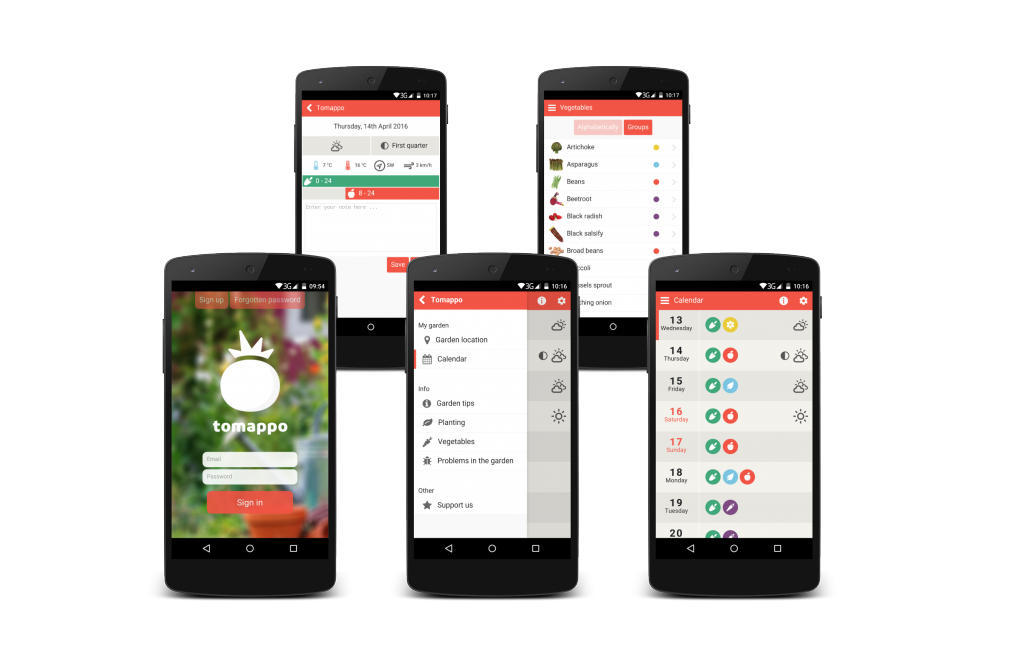 The main part of the app is a sowing calendar where you can check the right days for work with individual garden plants and save your notes on the activities and methods that bore fruit, for the following season. However, in comparison to other gardening apps our variety offers more. It delivers accurate weather forecast exactly for your garden location, offers reminders for garden chores option, and gives advice on fertilization, pests control, optimum location for garden plants and more useful information. The app is adjusted to individual regions and will not recommend planting mangoes or papayas, where these won't succeed.
We are growing faster than tomatoes and lettuce
In Slovenia, where the idea was sown and cultivated, the app has been downloaded by more than 10,000 gardening lovers, which means every 25th gardener already has it! The Tomappo users circle is growing very quickly; in the second year since its release their numbers have doubled. More than 13,000 people follow the contents on our web portal, which proves that Tomappo is not only serving itself but is well adjusted to the users' needs – both content and price-wise. The loyal garden assistant is free, the only payable content is the garden planner and even that is cheaper than any printed manual.
In cooperation with accredited experts
The team that created the app includes, in addition to the above mentioned creative manager, program developer Marko Novak, MSc, legal expert Tilen Blazica, BSc, and meteorologist Vanja Blazica, PhD. When preparing the contents for Tomappo, we have cooperated with accredited experts from the Chamber of Agriculture and Forestry of Slovenia and Slovenian Environment Agency. We have also drawn information from the most important gardening manuals by renowned authors from different countries. You can get more information about us and our mobile app online at www.tomappo.com. We are available for all additional explanations at info@tomappo.com as well.